Latex stockings - Seamed Like Real Nylons
The only one latex stockings in the world that are realy seamed | Authentic seamed like ff - nylons | Made to measure
Handmade in Europe from 4D-Rubber sheet
Made in 0,2 mm latex
Excellent fit at feet and leg
Backside seamline - no side seams
Stockings consists of one part only
Developed, tested and manufactured by a German engineer
Latex stockings with perfect fit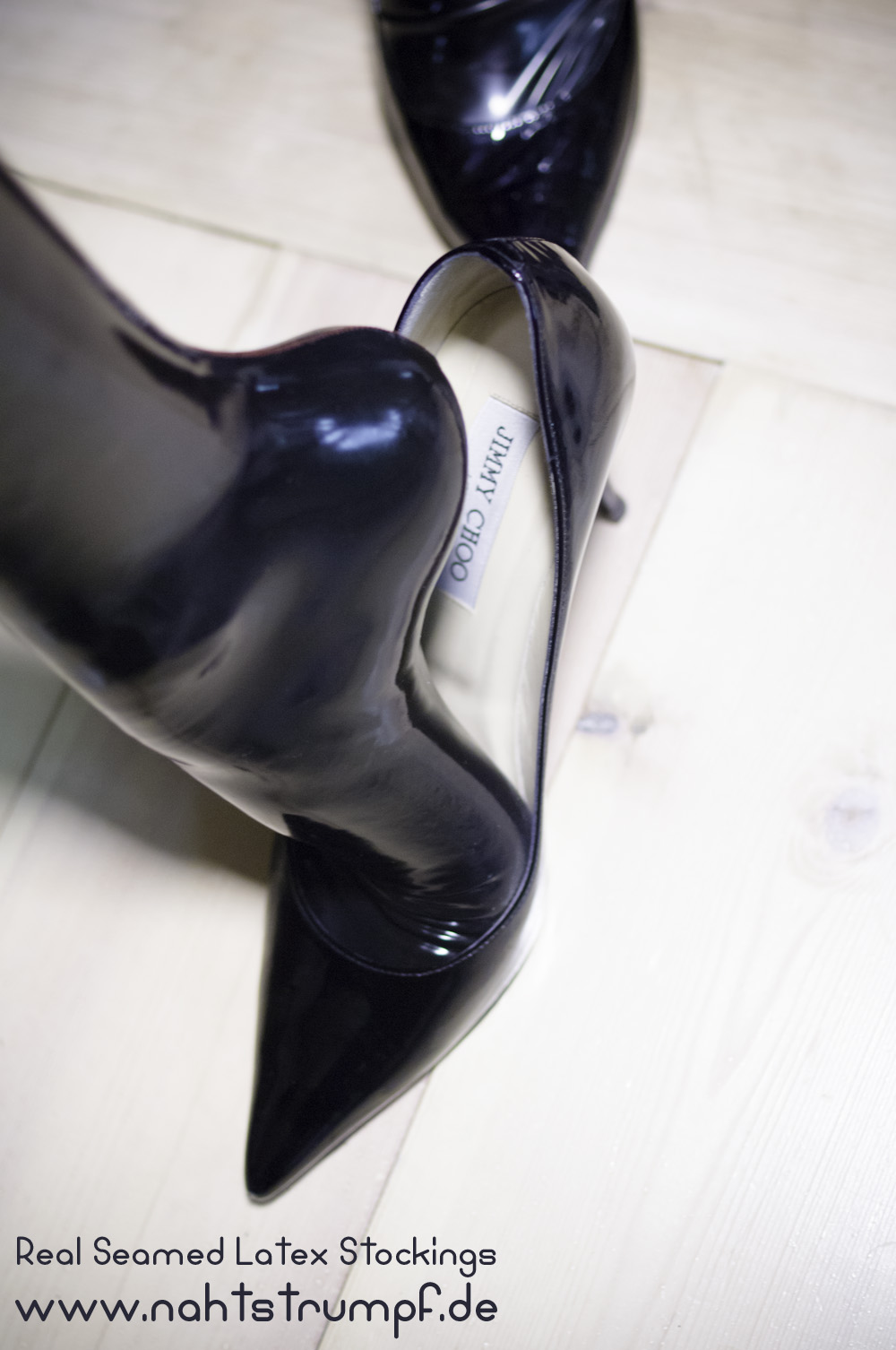 Our stockings do have an backseam only. No side seams, no intermediate seams on the foot part
Jade green 0,2 mm latex stockings with yellow seam
Usual latex stockings are glued or moulded - our stockings not, they have an real seam. This is absolutely unique in the world. Our stockings are sewn on an original sewing machine for ff nylons - the effect: an thin seam line and perfect fit at legs, feet and toes. Pattern is exactly copied from 50th fully fashioned seamed stockings. The seamline is reinforced inside and very durable. The seamline is an real eye-catcher because she looks elegant and beautiful. The slim seam brings timlessly simple elegance at rubber stockings.
I am an engineer and use my knowledge for useful things - to make them beautiful and useful ;-). Some years ago I bought an old sewing machine, special made for real seamed nylons stockings during the 50th . After the purchase, I started to sew a made to measure stockings from nylon fabric. All of this individual items in small quantities. Dimension of Feet an leg arise an personal anatomic pattern and an perfect fit. An excellent pattern for your stockings, including the special perfect - fit - pattern at the foot section of course.
We can form curves of pattern perfect and sew curves perfect in thin latex also. The seamline is high stretchable.
---
To

ensure

the

best

quality

for

you

we are using:
0,20 mm Supatex  latex only
A new pattern is created for each individual wearer.
Stocking consists of only one part (plus the inside placed reinforcements at stocking top & at the seamline)
Finest industrial yarn Made in Germany
Our experience with hand-made stockings
The seamline is reinforced and high moisture-resistent
The stocking - top is reinforced
Perfect fitted feet - no "duck feet"
Two options for you: Regular fitted latex stocking or comfort fitted latex stockings
Real Hold - Ups available! Stay-ups with an usually silikoniszed lace ribbon at stocking top. Fit according your thigh circumference.
The heel is ideally shaped
Small breathable air holes in the sole
Each pair of stockings is completely manufactured in-house
Price:
Handmade latex stockings for 137,50€. Made to measure but available in two fit: regular och comfort.
Handmade hold-up latex stockings for 167,50€ . Real hold-ups with siliconized lace top.
Many thanks to our previous customers for your orders and your trust. I hope you had and have many pleasant hours with the original AG Nahtstrumpf latex stockings.
---
Available as a genuine hold - up's with lace top also
[caption id="attachment_12246" align="alignnone" width="565"]
Siliconised lace top made in Austria[/caption]
---
Order your handmade latex stockings for 137,50€
Order your handmade hold-up latex stockings for 167,50€ . Real hold-ups with siliconized lace top.
Our Old Etsy Shop with Reviews
---
Picture be
low: comparison between red seamline of GIO ff seamed stockings [left] an red seamline AG Nahtstrumpf seamed latex stockings [right].
The seam at both stockings is made ​​with the same type of sewing-machine
Picture: stocking - part and seamline
Picture: Pattern of our bespoke latex stockings
Yellow arrows - yea, we can make curves exact at your heel and form an exact shaped pattern at your feet